About US East Coast Cruise Ship Casino Gambling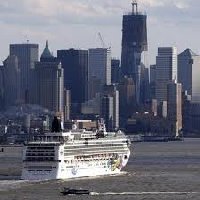 This handy list shows all
cruise ship
names, cities of
departure
and ship
destinations
on the East Coast of the United States. Plus information on
casino gambling
including the ship's casino size, number of slot machines and table games played. The
Caribbean
, Bahamas and Bermuda are the most popular destinations for cruise ships sailing from the East Coast, but many also travel to Europe and other parts of the world.
Florida
has the largest selection of cruise ships exploring the Caribbean Islands.
The same ship, sailing from the same port may have different destinations depending on the time of the year. Many sail to the Caribbean during the winter and Europe during the summer.
Each foreign travel stop has a unique culture and geography, so make sure you follow the cruise lines recommendations regarding what to see and do during each port of call.

USA East Coast Cruise Ship Departures

| | | | | |
| --- | --- | --- | --- | --- |
| Sail From | Ship Name | Ports of Call | Casino SF | Slots |
| Charleston, SC USA | Carnival Fantasy | Bahamas, Caribbean | 9,000+ | 250+ |
| New York, NY USA | Carnival Miracle | Bahamas + Caribbean ports | 9,000+ | 250+ |
| Baltimore, MD USA | Carnival Pride | Caribbean Ports of Call | 9,000+ | 250+ |
| Cape Liberty, NJ USA | Celebrity Silhouette | Caribbean, Spain, Italy | 9,500 | 244 |
| New York, NY USA | MS Veendam | New York, Bermuda, South America | 3,470 | 96 |
| Boston, MA USA | Norwegian Dawn | Boston - Bermuda | 14,000 | 199 |
| New York, NY USA | Norwegian Gem | Bahamas, Eastern Caribbean, Western Caribbean | 14,000+ | 200+ |
| New York, NY USA | Norwegian Star | New York, Bermuda, Western Caribbean | 14,000 | 200 |
| Baltimore, MD USA | Enchantment of the Seas | Bermuda and Bahamas | 6,843 | 190 |
| Cape Liberty, NJ USA | Explorer of the Seas | Bermuda, Bahamas | 9,623 | 287 |