About Cruise Ship Casino Gambling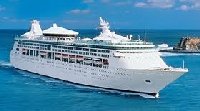 This guide will help you find the perfect Vacation Cruise Ship and learn about the on board
casino
gambling including the casino size, number of slot machines and table game descriptions. Cruise companies that do not have a casino on the ship like
Disney Cruise Lines
, are not included in this directory. There are also a few
One-Day-Casino-Cruises
where the ship sails out into international waters for a few hours to make gambling legal and returns the same day.
Taking a cruise is the easiest and most hassle free way to see the world. One price covers room, food and most entertainment. All you pay for is alcohol, casino gambling, purchased items and some special shore excursion activities. You can sit back and relax by the pool or participate in many adrenaline rush activities. For more information regarding cruise ships visit cruise ship owners.
Typically ships have several ports of call and before each stop you can attend an information meeting explaining what to see, where to shop and sometimes what to avoid. Then you are free to explore on your own or sign up for a special shore activity like golf, scuba diving, jungle excursions etc. Many ports of call have nearby land based casinos.