About Ships that Cruise the World - Casino Gambling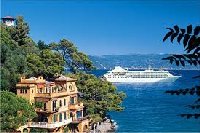 Vacation
ocean cruises
are the hassel free and inexpensive way to see the world because one price covers all room, food and entertainment. The traveler must pay for liquor, gifts, shore excursions and casino expenses. Information on casino gambling including the ship's casino size, number of slot machines and table games played is also included.
The USA port shown is the home base for the ship, but some ships truely travel the world and you can start your cruise at any port of call. The travel itenerary changes during the year, so check the ship's website to schedule your trip.
Each port has a unique culture and geography, so make sure you follow the cruise lines recommendations regarding what to see and do during each port of call.
The ships below travel across the oceans for visits to ports on different contenents.

World Cruise Ship Destinations

| | | | | |
| --- | --- | --- | --- | --- |
| Sail From | Ship Name | Ports of call | Casino SF | Slots |
| All ports | Azamara Journey | Africa, Asia, Mediterranean, Europe | 4,000 | 75+ |
| All ports | Azamara Quest | Africa, Asia, India, Mediterranean, South America | 4,000 | 75+ |
| BC Canada | Radiance of the Seas | Alaska, Australia, Hawaii | 6,459 | 188 |
| CA USA | Carnival Spirit | Mexico, Hawaii, Australia, Alaska | 10,000+ | 300+ |
| Florida | Jewel of the Seas | Caribbean, Scandinavia | 6,459 | 195 |
| Florida | Liberty of the Seas | Caribbean, Barcelona, Cannes | 10,258 | 304 |
| Florida | Independence of the Seas | Caribbean, England, France | 10,258 | 273 |
| Florida | Navigator of the Seas | Caribbean, France, Spain | 9,623 | 292 |
| Florida | Celebrity Equinox | Caribbean, Spain, Italy, France | 9,000 | 274 |
| Holland | Brilliance of the Seas | Caribbean, Europe | 6,459 | 195 |
| Italy | Crown Princess | Caribbean, Europe, Mediterranean | 13,500 | 163 |
| LA USA | Voyager of the Seas | Caribbean, Europe, Asia | 9,623 | 274 |
| Puerto Rico | Adventure of the Seas | Caribbean, Spain, Italy | 9,623 | 291 |
| Texas | Mariner of the Seas | Caribbean, Spain, Italy | 9,623 | 283 |
| World | MS Amsterdam | Alaska, Australia, Caribbean | 3,675 | 115 |
| World | MS Eurodam | Caribbean, New England, North Europe | 5,000+ | 150+ |
| World | MS Massdam | Caribbean, New England, Europe | 3,675 | 119 |
| World | MS Nieuw Amsterdam | Caribbean, Mediterranean, West Europe | 3,675 | 115 |
| World | MS Noordam | Africa, Caribbean, Mediterranean, Europe | 4,500+ | 135 |
| World | Ocean Princess | Africa, Australia, Mediterranean, Europe | 2,000 | 110 |
| World | Pacific Princess | Africa, Mediterranean, Europe | 3,000 | 40 |
| World | Regatta | Mediterranean, Europe, Tahiti, South America | 2,500 | 40 |