About casino gambling on Carnival Cruise Lines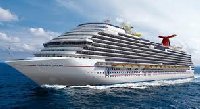 Carnival Corporation has 100 cruise ships and also owns hotels, 300 motor coaches and 20 domed rail cars. Most of the ships have large gambling casinos for adult fun that play all the popular table games and slot machines. The company sells its cruises through travel agents.
The company is the largest vacation company in the world and its portfolio of brands includes Carnival Cruise Lines, Holland America, Princess Cruises and Seabourn in North America and Cunard Line, AIDA and Costa Cruises, and Iberocruceros in Europe. Plus P&O Cruises in Australia.
Contact for Financial Information
Phone: 305 599 2600
Investor Website: Carnival Cruise Lines
NYSE: CCL
Carnival Corporation
87th Avenue
Miami, FL 33178

Carnival Ship Locations

| | | | |
| --- | --- | --- | --- |
| Port of Departure | Ship Name | Ship Class | Destination |
| Long Beach, CA USA | Carnival Inspiration | 2,054 Pass | Baja Mexico |
| San Diego, CA USA | Carnival Spirit | 2,124 Pass | Mexico, Hawaii, Australia, Alaska |
| Long Beach, CA USA | Carnival Splendor | 3,006 Pass | Ports in Mexico |
| Miami, Florida | Carnival Destiny | 2,642 Pass. | Caribbean Ports of Call |
| Port Canaveral, Florida | Carnival Ecstasy | 2,056 Pass | Bahamas |
| Jacksonville, Florida | Carnival Fascination | 2,052 Pass | Bahamas |
| Fort Lauderdale, Florida | Carnival Freedom | 2,974 Pass | Caribbean Ports of Call |
| Miami, Florida | Carnival Glory | 2,974 Pass | Caribbean Ports of Call |
| Miami, Florida | Carnival Imagination | 2,056 Pass | Caribbean Ports of Call |
| Tampa, Florida | Carnival Legend | 2,124 Pass | Western Caribbean |
| Tampa, Florida | Carnival Paradise | 2,052 Pass | Western Caribbean |
| Port Canaveral, Florida | Carnival Sensation | 2,052 Pass | Bahamas |
| Miami, Florida | Carnival Valor | 2,984 Pass | Bahamas + Caribbean ports |
| New Orleans, LA USA | Carnival Conquest | 2,974 Pass | Caribbean Ports of call |
| New Orleans, LA USA | Carnival Elation | 2,052 Pass | Western Caribbean |
| Baltimore, MD USA | Carnival Pride | 2,124 Pass | Caribbean Ports of Call |
| New York, NY USA | Carnival Miracle | 2,124 Pass | Bahamas + Caribbean ports |
| San Juan, Puerto Rico | Carnival Victory | 2,758 Pass | Caribbean Ports of Call |
| Charleston, SC USA | Carnival Fantasy | 2,056 Pass | Bahamas, Caribbean |
| Galveston, Texas | Carnival Magic | 3,690 Pass | Bahamas + Caribbean ports |
| Galveston, Texas | Carnival Triumph | 3,006 Pass | Yucatan and Cozumel Mexico |