About Casino Gambling on Royal Caribbean Cruises Ltd.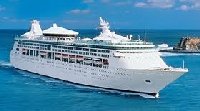 Royal Caribbean is a cruise line brand owned by Royal Caribbean Cruises Ltd. which is a Norwegian and American company with a corporate in Miami, Florida. Most of the ships have large gambling casinos featuring table games and slot machines. The company has 42 ships servicing worldwide ports of call and has 24% of the cruise business market.
The company operates its ships under 5 different brand names, the main brand Royal Caribbean Cruise Line has names ending in "of the Seas". Sister brands are Celebrity Cruises, Azamara Cruises, Pullmantur and CDF Croisieres de France.
Contact for Financial Information
Phone: 305 539 6000
Investor Website: Royal Caribbean
NYSE: RCL
Royal Caribbean Cruises Ltd.
1050 Caribbean Way
Miami, FL 33132 2096

Royal Caribbean Ship Locations

| | | | |
| --- | --- | --- | --- |
| Port of Departure | Ship Name | Ship Class | Destination |
| Vancouver, BC Canada | Radiance of the Seas | Serenade | Alaska, Australia, Hawaii |
| Sao Paulo, Brazil | Splendour of the Seas | Vision Class | Brazil |
| Miami, FL USA | Grandeur of the Seas | Vision Class | Caribbean |
| Port Canaveral, Flordia | Freedom of the Seas | Freedom Class | Caribbean Islands |
| Miami, Florida | Majesty of the Seas | Sovereign | Bahamas |
| Port Canaveral, Florida | Monarch of the Seas | Sovereign | Bahamas |
| Tampa, Florida | Jewel of the Seas | Serenade | Caribbean, Scandinavia |
| Fort Lauderdale, Florida | Liberty of the Seas | Freedom Class | Caribbean, Barcelona, Cannes |
| Fort Lauderdale, Florida | Independence of the Seas | Freedom Class | Caribbean, England, France |
| Fort Lauderdale, Florida | Navigator of the Seas | Voyager Class | Caribbean, France, Spain |
| Fort Lauderdale, Florida | Allure of the Seas | Oasis Class | Caribbean Ports of Call |
| Fort Lauderdale, Florida | Oasis of the Seas | Oasis Class | Caribbean Ports of call |
| Amsterdam, Holland | Brilliance of the Seas | Serenade | Caribbean, Europe |
| New Orleans, LA USA | Voyager of the Seas | Voyager Class | Caribbean, Europe, Asia |
| Baltimore, MD USA | Enchantment of the Seas | Vision Class | Bermuda and Bahamas |
| Cape Liberty, NJ USA | Explorer of the Seas | Voyager Class | Bermuda, Bahamas |
| Oslo, Norway | Vision of the Sea | Vision Class | Northern Europe Ports |
| San Juan, Puerto Rico | Serenade of the Seas | Serenade | Caribbean Islands |
| San Juan, Puerto Rico | Adventure of the Seas | Voyager Class | Caribbean, Spain, Italy |
| Singapore, Singapore | Legend of the Seas | Vision Class | Malacca, Malaysia, etc. |
| Galveston, Texas | Mariner of the Seas | Voyager Class | Caribbean, Spain, Italy |
| Seattle, WA USA | Rhapsody of the Seas | Vision Class | Alaska |