Location of and reviews on casino gambling in Bosnia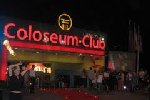 Coloseum Casino
The only casino in
Bosnia
is the Coloseum Club Casino in Sarajevo.
Bosnia
is mostly mountainous with a small coastline on the Adriatic Sea and the country has hot summers and cold winters. When driving, stay on paved roads to avoid landmines left over from the civil war. The languages are Bosnian, Serbian, Croation and all three are simular. Popular place for rafting, kayaking on the Neretva river and winter sports at the 1984 Winter Olympic area. For travel details visit
www.worldtravelguide.net
.
You may also enjoy learning about other casinos worldwide or visiting famous U.S. gambling cities and if you visit Las Vegas discover the different attractions and exhibits, many or which are free.
Bosnia Casino Descriptions
| | | | | | | | | |
| --- | --- | --- | --- | --- | --- | --- | --- | --- |
| Casino | City | Hotel | Spa | Pic | Size SF | Slots | Promos | Golf |
| Coloseum | Sarajevo | | | | 7,200 | 135 | | |
include('google200x200.php'); ?>