Free Las Vegas Shows and Attractions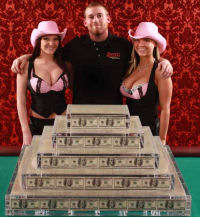 This guide locates the free or unusual Las Vegas shows, attractions and exhibits. The first four attractions on the list are free, professionally produced outdoor shows so take the time to stop and watch the show.
The other Las Vegas exhibits are not your typical shows or activities so they offer a nice break from the usual entertainment.
We think the most romantic activity in Las Vegas is the Gondola Ride at the Venetian Resort. The ride takes you through the Venetian Canals both inside and outdoors while a gondolier serenades you. If you are on a special date this is a must do activity.
For the real thrill seekers, jump off the 100 story Stratosphere Casino or try one of the other rides that are cantilevered over the Stratosphere hotel tower.
Call the Las Vegas NV office of tourism 702-577-3564 or visit the official state web site www.lasvegastourism.com for additional travel information.
Las Vegas Strip Unusual Attractions
Free outdoor performances directly on the Strip

Activity
Location
Cost
Description
Water Fountain Show
Bellagio
Free
Water, music and light show
Major Light Show
Downtown
Free
Fremont Street becomes a light show.
Volcano Eruption
Mirage
Free
Huge volcano erupts to light and music
Special Casino Attractions
Activity
Location
Cost
Description
Backstage at Jubilee
Bally's
$15
An hour behind the scenes tour including dressing rooms.
Glass Art and Botanical Garden
Bellagio
Free
Located in the Conservatory is a breathtaking botanical display and Dale Chilhuly Glass Ceiling Sculpture.
Fine Art Gallery
Bellagio
$15
Featuring Renoir, Picasso, Degas etc.
$1,000,000 Photo
Binnion's
Free
Have your picture take in front of $1,000,000
Neil Leifer Gallery
Caesars Palace
Free
See some of the most spectacular and iconic photographs in sports history.
Free Slot Play
Casino Royale
Free
$50 free slot play and coupon book
Circus Acts
Circus Circus
Free
Live Circus Acts many performed over the casino floor.
Flamingo Wildlife
Flamingo
Free
Relaxing spot to visit with over 300 birds including flamingos, ibis, parrots etc.
Rock Memorabilia
Hard Rock
Free
Rock & Roll Memorabilia located throughout the facility.
Classic Cars
Imperial Palace
Free
World's largest and finest classic car showroom with over a $100 inventory.
Bodies, The Exhibition
Luxor
$31
Showcases real full-bodies and organs that provides a detailed three-dimensional vision of the human form.
Titanic Exhibit
Luxor
$27
The epic story is revived through this Artifact Exhibition.
Shark Reef Aquarium
Mandalay Bay
$17
1.6 million gallons of seawater featuring sharks, sawfish, giant rays, piranha etc.
Lion Habitat
MGM Grand
Free
Located at the center of the casino 11am to 7pm daily.
CSI: The Experience
MGM Grand
$30
Play the role of a crime scene investigator in this interactive challenge.
White Tigers
Mirage
$15
Secret Garden and Dolphin Habitat with White Tigers
Aquarium
Mirage
Free
20,000 gallon, saltwater aquarium behind front desk.
Roller Coaster
New York NY
$14
This roller coaster takes you into the casino and outside over the strip.
Eiffel Tower
Paris
$10
Go up 460 feet inside the Eiffel Tower for a great view of the "Strip".
Aquarium
Silverton
Free
117,000 gallon aquarium, voted "Best Free Attraction" in Las Vegas
Thrill Rides
Stratosphere
$16
Thrill rides including Sky Jump, Big Shot, X-Cream and Insanity 100 stories above the ground.
Madame Tussauds
Venetian
$25
World famous Madame Tussauds Wax Creations of your favorite celebrities.
Gondola Ride
Venetian
$64
Graceful and romantic glide down the Grand Canal in an authentic Venetian gondola.
Conservatory
Wynn
Free
A visit to the Conservatory is a beautiful way to relax and unwind.