include('google200x200.php'); ?>
Locate and see reviews on casinos in Cambodia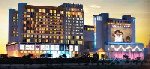 Naga World Casino
The chart below shows the 11 top casinos in Cambodia,
Asia
with links to reviews. The largest casino is the
Naga World
Hotel and Resort in phnom Penh which has a spa and golf course. The casino pages have pictures, gaming details for slots, blackjack, poker, craps, roulette and other table games plus hotel descriptions, restaurants and maps.
Foreigners need a visa to enter Cambodia. Many Cambodians speak English, especially the young. After many years of war and hardship Cambodia is finally starting to modernize and the tourist industry is reapidly growing. For more information visit www.worldtravelguide.net.
Cambodia Casino Descriptions
| | | | | | | | | |
| --- | --- | --- | --- | --- | --- | --- | --- | --- |
| Casino | City | Hotel | Spa | Pic | Size SF | Slots | Promos | Golf |
| Las Vegas Sun | Bavet | Yes | | | 48,400 | 150 | | |
| New World | Bavet | Yes | Yes | | 6,500 | NA | | |
| Titan King | Bavet | Yes | | | 78,000 | NA | | |
| Naga World | Phnom Penh | Yes | Yes | | 75,320 | 1,000 | | |
| Tropicana | Poipet | | | | 44,000 | 135 | | |
| Grand Diamond | Poipet | Yes | | | 62,000 | 220 | | |
| Holiday Palace | Poipet | Yes | Yes | | 65,000 | 300 | | Golf |
| Princess | Poipet | Yes | | | 63,000 | 166 | | |
| Star Vegas | Poipet | Yes | | | 31,000 | 130 | | Golf |
| Holiday Palace | Sihanoukville | Yes | | | 6,400 | 40 | | |
| Koh Kong | Srok Mondoul Seyma | Yes | Yes | | 39,000 | 100 | | |