Location of and reviews on casinos in Kenya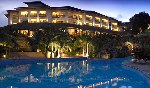 Diani Reef Casino
The chart below shows the top nine casinos in Kenya,
Africa
with reviews. Many of the casinos are connected to beautiful ocean front resorts. The casino pages have pictures, gaming details for slots, blackjack, poker, craps, roulette and other table games plus hotel descriptions, restaurants and maps.
Kenya is on the Indian Ocean Coast and has the world's best game reserves. The parks are famous for lions, giraffes, elephants and herds of zebras, water buffalos and wildebeests. Kenya is also becoming golf holiday destination with great golf courses and low priced green fees. For more information visit www.worldtravelguide.net.
Kenya Casino Descriptions
include('google200x200.php'); ?>