Hilton Casino - Prague - Praha
Hilton Casino in Pargue, Czech Republic has a 3,400 square foot casino floor featuring 20 slots, 14 table games, 3 poker tables, restaurant and Hilton Hotel. Open 2pm-6am daily.
Address
Hilton Casino
Pobrezni 1
Prague, Praha
Czech Republic
Contact Information

Tel: 420 224 810 988
Gaming

Casino size: 3,400

Slot machines: 14

Table games: 14 table games playing blackjack, roulette, punto banco

Poker: Three poker tables
Hotel
788 room Hilton Atrium Hotel is connected to the casino.
Restaurants
Hotel Restaurant - International menu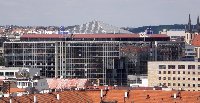 include('google200x200.php'); ?>